I was on the Thai / Cambodian border from 1990 - 1992 as IRC Printing Coordinator, followed by five years split between Aranyaprathet and Battambang in northwest Cambodia.
I worked regularly in Khao-I-Dang, Site II / Site 2 and Site B, my work took me to all of the camps on the border and into contact with their administrators - KPNLF, FUNCINPEC (Royalist party), Kmer Rouge and neutral Khao-I-Dang. I also had the opportunity to visit some of the KPNLF (Khmer Peoples' National Liberation Front) / KR (Khmer Rouge) "Liberated Zones" in the vicinity of Banteay Chhmar and Chhmar Pouk.
In 1990 / 1991 I spent two weeks in Cambodia visiting Phnom Penh, Kandal, Kompom Speu and Siem Riep.
In 1993, with a Khmer partner, Ouk Chheng, and staff from all of my Thai / Cambodian border projects we opened RCG Battambang; a hybrid development project / private enterprise. Together we provided a range of computer services in northwest Cambodia including training over 300 people in computer use. I progressively spent less and less time in the project and in 1997 handed over all responsibilities to Ouk Chheng.
1998, 1999 and 2000 saw me on 3 missions with MSF (Medicines Sans Frontiers) in South Sudan, Afghanistan and Ambon, Indonesia.
In 2000 I married an Ambonese girl, in 2005 we had our daughter and we now live in Canada where, after 10 years working in relief and development, I have returned to my old life developing computer systems and now positioning websites in the search engines.
The road goes ever on..............
Richard Rowat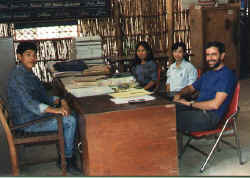 IRC Printing Site II with asst. supervisor, accountant and apprentice production scheduler.